Colbert Sheriff's Office participated in moment of silence for officers nationwide
09/04/2015
Moment of silence in memory of slain law enforcement officers
Today employees of the Colbert County Courthouse and the Community Corrections Office joined the Colbert County Sheriff's Office, local Alabama State Troopers, the District Attorney's Office, the Probate Judge's Office, and Drug Task Force agents, as we all gathered for a moment of silence in memory of the multiple law enforcement officers who have lost their lives over the past few weeks due to violent acts directed toward police.
This idea was sponsored by the National Sheriff's Association as a showing of sympathy for the slain Harris County, Texas sheriff's deputy Darren H. Goforth who died August 28 when a gunman came up behind him at a gas station and shot him in the back.
During our service Sheriff Williamson spoke about the dangers law enforcement officers face on the street. District Attorney Bryce Graham and Asst. D.A. Kyle Brown both spoke about the gratitude their office has for all officers who put their lives on the line on a daily basis. Judge Hughston spoke to Sheriff Williamson personally and expressed his gratitude for all that our officers do. Judge Hatcher and Judge Coker both thank our officers regularly. These expressions of concern do make a difference and are greatly appreciated.
Employees of the Colbert County Clerk's Office, Colbert County Commission, Colbert County Revenue Commission, Judge's Offices and various others were also in attendance.
Sheriff Frank Williamson states that we at Colbert County Sheriff's Office want to say "Thank You" to "ALL" of our Law Enforcement including the County, City and State Law Enforcement officers. We appreciate your service and dedication to the citizens of Colbert County. At the end of the day we all want to go home to our families. Please stay vigilante in everything you do and know that we are supporting each and everyone of you.
We would like to express our sincere sympathy to the families of the multiple slain officers who have lost their lives over the past few weeks due to violence toward officers, and send them our message of solidarity as members of the law enforcement family.
There were two seperate memorial services at the same time, one at the Courthouse and also one at the County Jail which included our Colbert County Corrections employees. Both services were conducted at the same time with employees from both buildings. After the service the blue & black balloons which represented the "Thin Blue Line" were released from the courthouse lawn by sheriff's office employees.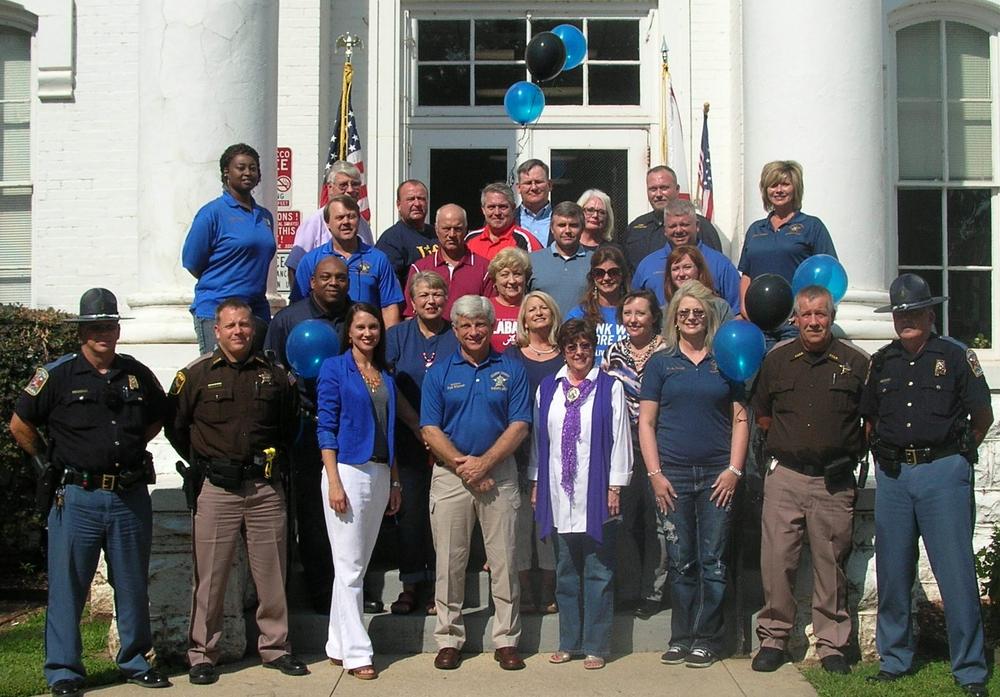 Above: Colbert County Sheriff's Office employees, Alabama State Troopers & Colbert County Courthouse employees


Below: Colbert County Jail Staff, deputies and Colbert County Commission employees