RONNIE MAY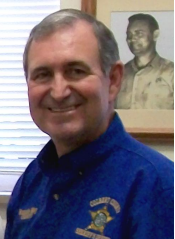 SHERIFF RONNIE MAY
1999 - 2015
Sheriff May has dedicated 42 years of his life to law enforcement in Colbert County. Serving the citizens of the county and striving to make the Shoals area a safer place to live for all has been his drive during his career.
EDUCATION
Graduate of Bradshaw High School in Florence, Alabama in 1969
Graduate of the University of North Alabama in 1973.
Graduate of the Northeast Alabama Police Academy a Jacksonville State University in 1973.
Graduate of the FBI National Academy in Quantico, Virginia - 129th Session in 1982
Completed numerous continuing education courses
LAW ENFORCEMENT CAREER
Colbert County Deputy - 1973 - 1974 (1 year)
Chief Investigator/Investigator with the Sheriffs Office - 1974 - 1999 (25 years)
Elected Sheriff in November of 1998 and took office on January 19, 1999. Re-elected in 2002, 2006, and 2010. Sheriff May is serving his 4th term in Office having completed 16 years as Sheriff
Retired January 19, 2015 after serving 16 years as Sheriff and 42 years in law enforcement with the Colbert County Sheriff's Office
MAJOR INVESTIGATIONS
Dawson Gang - 1982
FBI Task Force on Narcotics - 1985-86
Snow Mountain - 1985-1986
Sennett Case -1989
Robert Tate (Trucker Case) - 1989
Pugh Case - 1997-98
LAW ENFORCEMENT AFFILIATIONS
Alabama Sheriffs' Association District 1 Director (covering 10 counties) -- 2013
Member - Alabama Sheriffs' Association Legislative Committee - 2013
Member - Alabama Sheriffs' Association Homeland Security Committee -- 2013
President of Shoals Area Law Enforcement Coalition (SALEC) - 2000 to present
Assistant Director - Colbert Co. Drug Task Force
Member -- North Alabama Domestic Terrorism Group
Member -- U. S. Department of Justice Counter Terrorism Group
Member -- Board of Directors for Alabama Sheriffs' Youth Ranches
Member - Law Enforcement Planning Committee for Northwest Shoals Community College
Member FBI National Academy Associates (129th Session)
Member - Peace Officers' Association
Member - Fraternal Order of Police
Past Member of Alabama Sheriffs' Association Legislative Committee
Board of Directors - Crime Stoppers
Ronnie May - Bio
January 2015
Past Member -- Board of Directors - Rape Response
Regular Speaker for Life Long Learning Center - Northwest Shoals Community College
Member of Presidential Task Force - 1979
Deputy Sheriffs' Association of Alabama - Past Vice President for District 1 (covering 7 counties)
AWARDS
Nominated for J. Edgar Hoover Award by VFW Post 4919 in Sheffield, AL for Outstanding Service in Law Enforcement - 2009
"Sheriff of the Quarter" for the Alabama Sheriff's Star Magazine - 2004
Patriot Award presented by 115 Signal Battalion for support of soldiers and their families during Operation Christmas December 2003
Governor's Award for PALS (People Against Litter)
NEA's Read Across America Certificate of Appreciation for support of Reading in Schools - 2003 to resent
US Department of Transportation Safety Administration Certificate for Support for Click It or Ticket Campaign - 2001
FBI Award for performance in a Joint Task Force Investigation for the Pugh Murder Case - 1998
Shoals Optimist Club - Officer of the Year - 1992
FBI Award for Outstanding Service in Public Interest - All Area Narcotics Team - 1987
Florence, Alabama Jaycees Outstanding Young Law Enforcement Officer - 1980
Alabama Jaycees - Certificate of merit as Outstanding Young Law Enforcement Officer Nominee - 1980
Office of Lt. Governor of Alabama - honorary Member of Lt. Governor's Staff - 1980
Law Enforcement Handgun Association -Handgun Competition Award - 1978
WOWL-TV "Officer of the Year" for Colbert Co. Sheriff's office - 1976
COMMUNITY SUPPORT
Supporter of Shoals Area Labor Council activities for the past 15 years
Participant and speaker at Labor Day Activities for the past 15 years
Supports the various labor organizations by attending meetings and banquets
Support for Cancer Society
Support for American Heart Association
Support for Special Olympics
Support for Cerebral Palsy Center (on their Telethon each year)
Support for St. Jude Children's Hospital
Member -- First United Methodist Church of Muscle Shoals
Past Member - Sheffield Kiwanis Club
Past Member - Tuscumbia Civitan Club
Member - Shoals Democratic Club for 17 years
Sheriff May has made numerous presentations to classes, groups, and clubs over the years on many topics.
Sheriff May is married and has two married daughters, 2 granddaughters, 1 grandson, and another grandson due May 2015. He enjoys hunting and spending time with his family.